Where's Abu Dhabi, the Capital of the UAE?
Abu Dhabi, the capital city of the United Arab Emirates, has emerged as a captivating destination that seamlessly harmonizes tradition and innovation. This 1.5 million Middle East metropolis is renowned for its opulent skyscrapers, cultural heritage, and pristine beaches.
In this article, we will delve into the geographical location of Abu Dhabi, exploring its captivating landscapes, iconic landmarks, attractions and the blend of multiple cultures that make it truly exceptional, and an alternative to Dubai, the largest city in the country, that forms together the UAE.
If you want to better understand the Abu Dhabi culture, I recommend you read our article 25 Common Misconceptions about Abu Dhabi.
Is Abu Dhabi a Country or a City?

Abu Dhabi is an emirate covering a size of 67,340 sq km, covered mostly with desert. The emirate is home to several cities including which Abu Dhabi city, the capital of the UAE, and Al Ain, its historical city located in an oasis. It counts more than 200 natural islands. The emirate has a total population of close to 3 million inhabitants, including 1.5 million living in the city of Abu Dhabi.
Abu Dhabi is situated on the northeastern part of the Arabian Peninsula, overlooking the tranquil waters of the Arabian Gulf. Its strategic location places it at the crossroads of global trade routes, making it a melting pot of cultures and influences.
The city is located at around 1h 30 minutes from the emirate of Dubai, and is bordered by the Kingdom of Saudi Arabia to the west, the Sultanate of Oman to the southeast, and the Arabian Gulf to the north. You can reach Abu Dhabi International Airport through a 7 to 8 hours flight from London, Shanghai or Paris, 3 hours from Mumbai and a 15 hours flight from the United States
Abu Dhabi On The Map

Abu Dhabi's geographical coordinates are as follow. Its latitude and longitude coordinates are: 24.466667, 54.366669.
Latitude: 24.466667
Longitude: 54.366669
DMS Lat: 24° 28' 0.0012'' N
DMS Long: 54° 22' 0.0084'' E
If you are looking for options to travel between Dubai and Abu Dhabi, check our article From Dubai to Abu Dhabi, by bus, car or taxi.
The Astonishing Landscape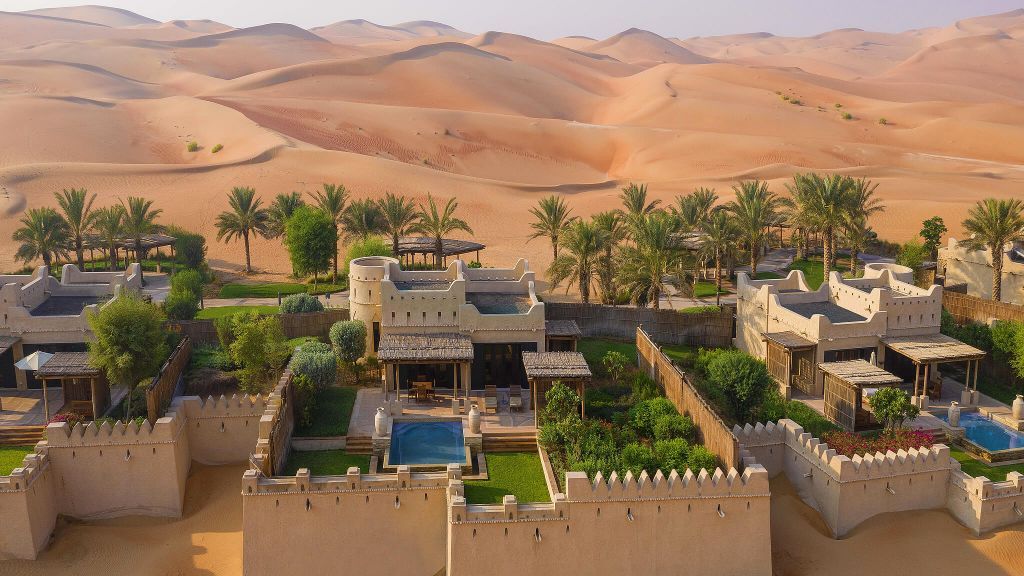 Qasr Al Sarab Desert Resort by Anantara
Abu Dhabi's landscape is a harmonious blend of desert dunes, lush oases, and pristine coastlines. The city's unique geographical features contribute to its diverse attractions, including the Rub' al Khali desert, also known as the Empty Quarter, which is one of the largest continuous sand deserts in the world.
The Urban Marvels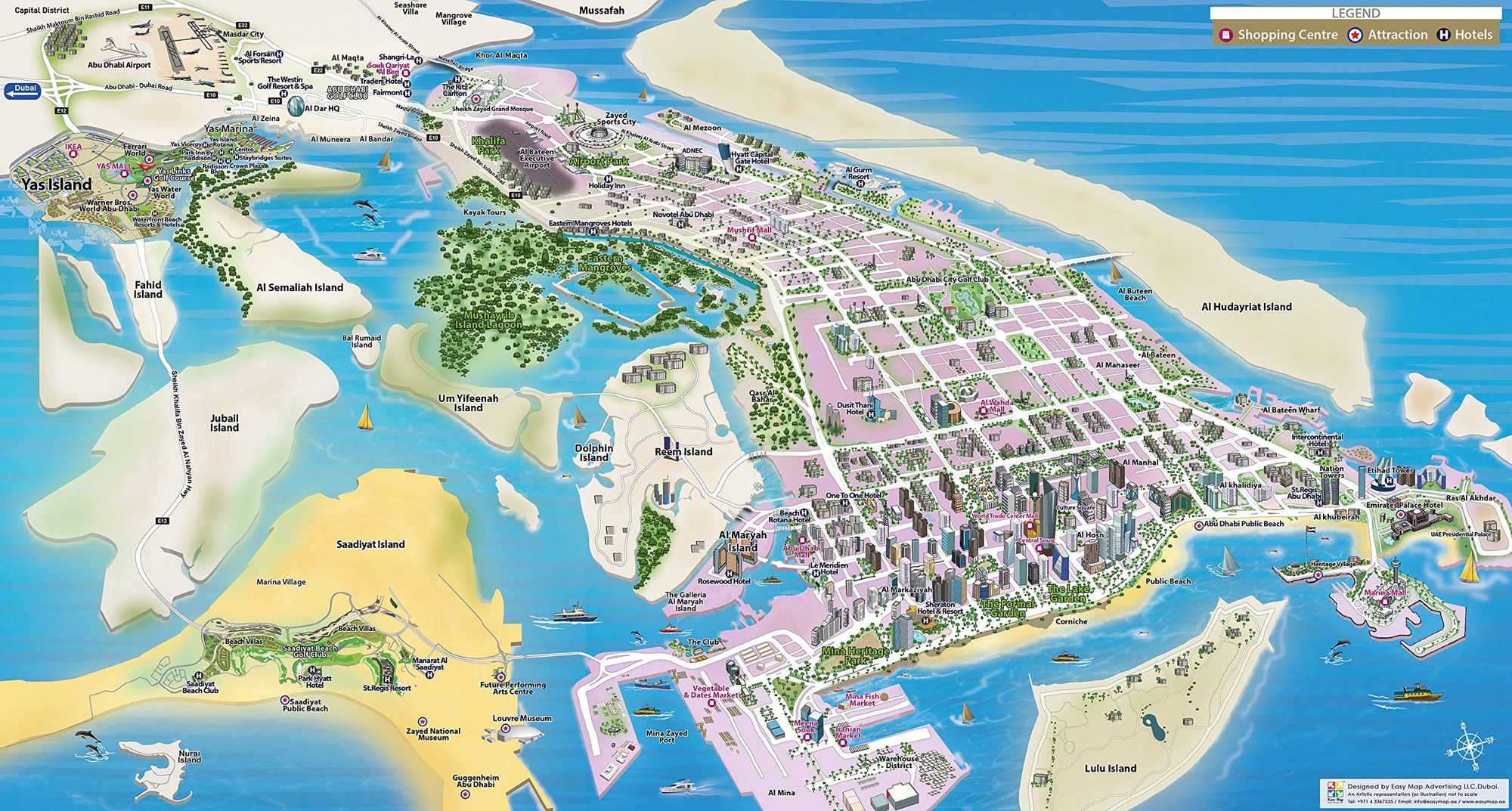 Nestled within Abu Dhabi city's striking geography are iconic modern architectural marvels, such as Emirates Palace hotel, Al Maryah Island or Qasr Al Watan. Abu Dhabi island (check the map) offers a cityscape dominated by futuristic skyscrapers and an historic city. The Etihad Towers and the Capital Gate are prime examples of contemporary design that grace Abu Dhabi's skyline, showcasing the city's aspiration for innovation and modernity.
Cultural Heritage and Landmarks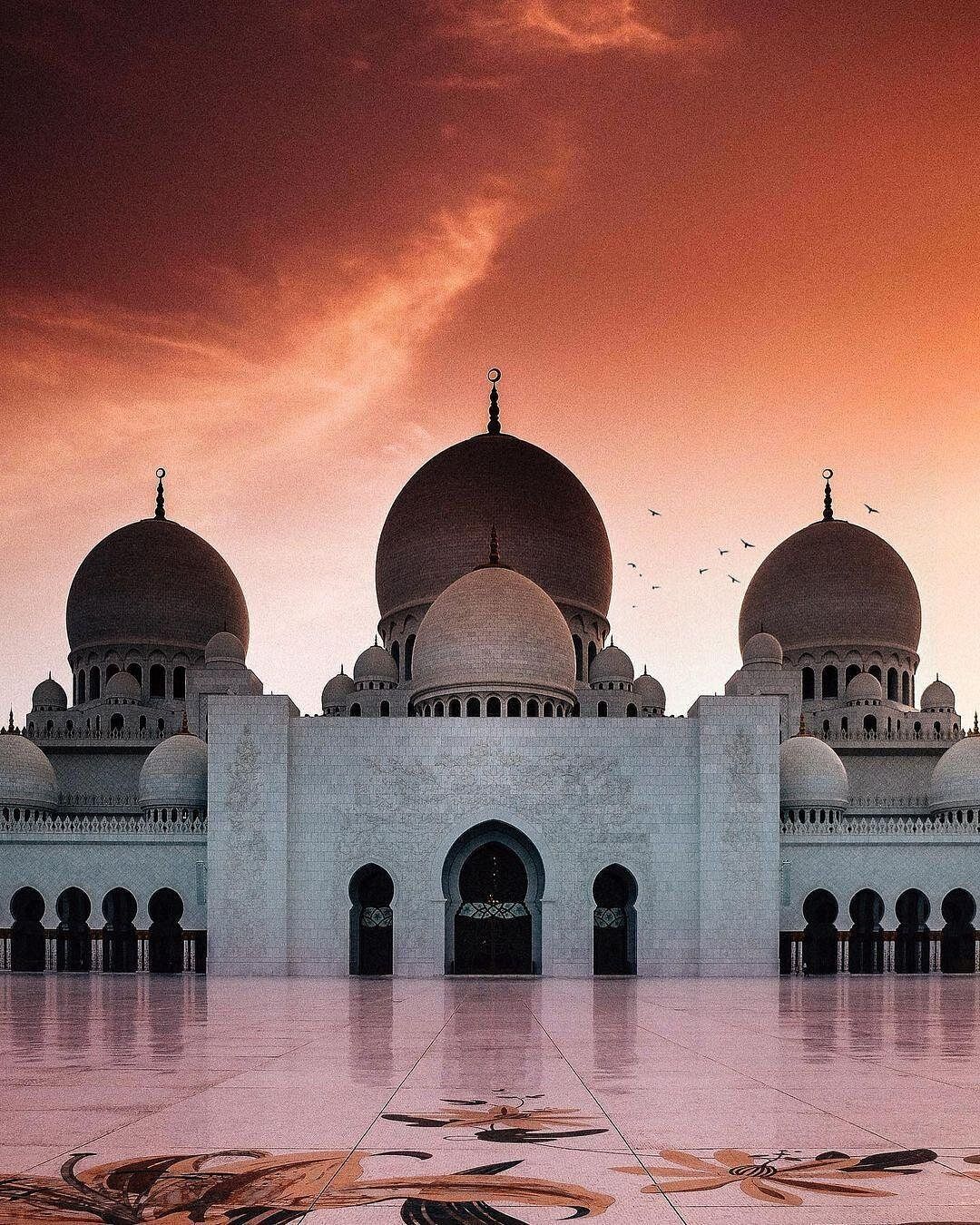 Despite its modernity, Abu Dhabi remains deeply rooted in its cultural heritage. The city proudly hosts landmarks like the Sheikh Zayed Mosque, an architectural masterpiece adorned with intricate designs, making it a symbol of unity and diversity.
The Island Oasis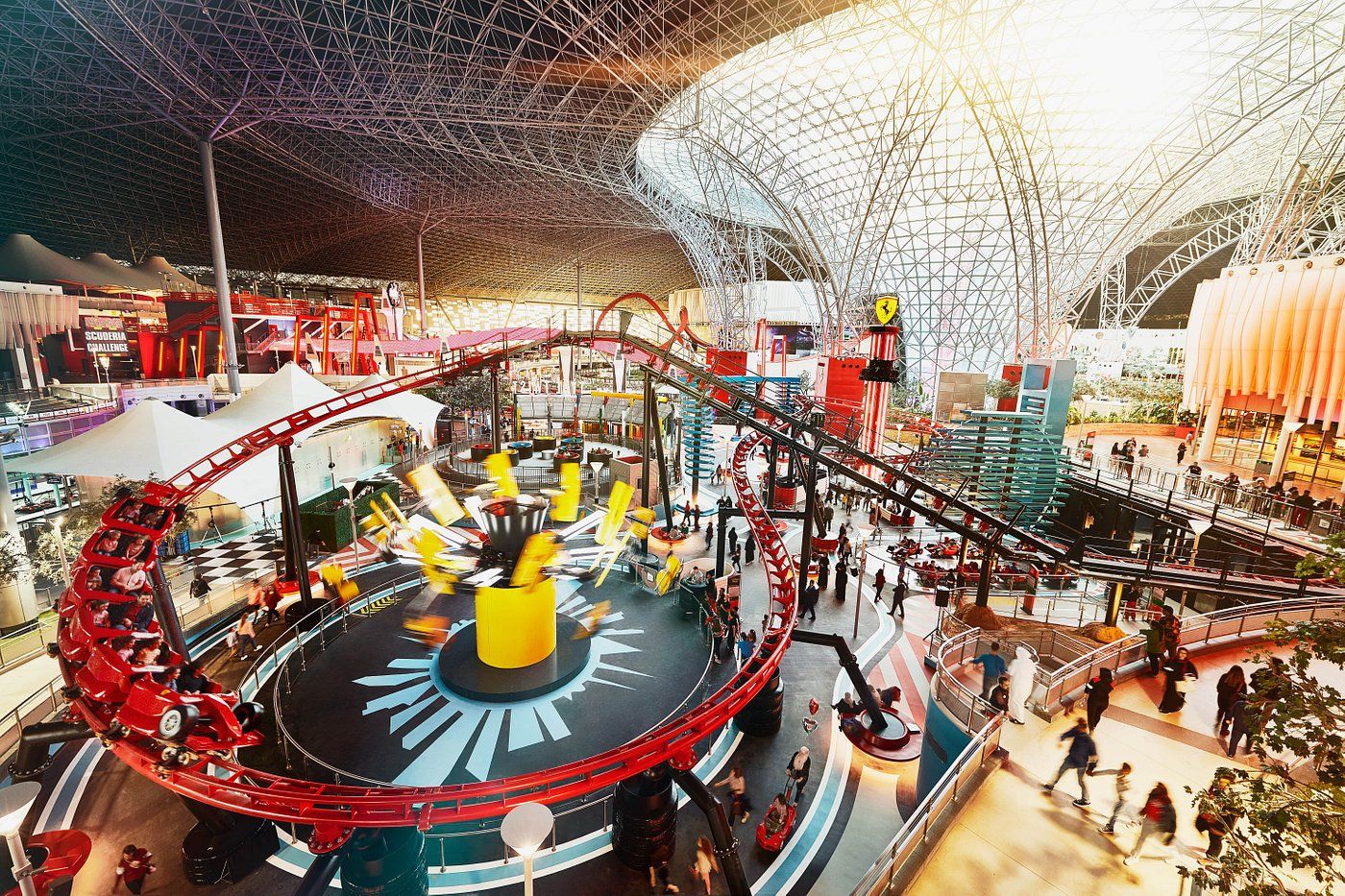 Ferrari theme park Abu Dhabi
Abu Dhabi's unique geographical position extends to its numerous islands that dot the azure waters of the Arabian Gulf. Yas Island, one of the most famous, hosts attractions like Ferrari World, Yas Waterworld, and the Yas Marina Circuit, home to the Formula 1 Abu Dhabi Grand Prix.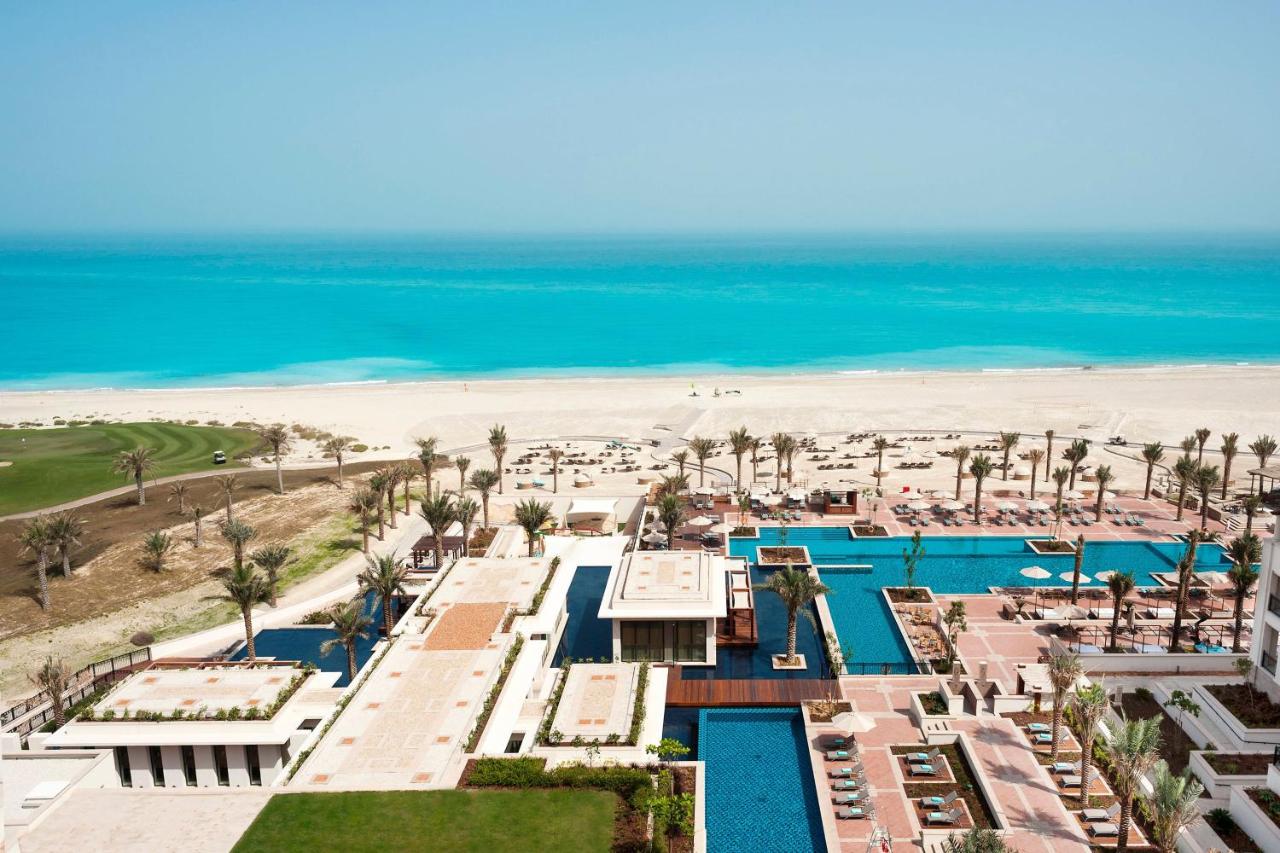 St. Regis Saadiyat Island Resort, Abu Dhabi
On the other side, the Saadiyat Island hosts Abu Dhabi key cultural entities such as the Louvre Abu Dhabi museum, the future Guggenheim Abu Dhabi and its soon to open Sheikh Zayed Museum. Saadiyat hotels are as well among the most beautiful in the United Arab Emirates, with properties such as the St Regis Saadiyat Island or the Park Hyatt Saadiyat offering access to beautiful beaches (better than Yas Beach), as well as your own private beach shall you book in one of the best hotels in Abu Dhabi.
FAQs

Is Abu Dhabi a desert city?
Yes and No, Abu Dhabi is located in the midst of the desert landscape, making it a unique blend of modern urbanity and traditional desert culture, but has a large sea side.
What is the significance of the Sheikh Zayed Grand Mosque?
The Sheikh Zayed Grand Mosque holds immense cultural and religious significance. It reflects the nation's values of tolerance, diversity, and openness, and is certainly one of the best place to visit in Abu Dhabi.
How do I get to Yas Island from Downtown Abu Dhabi and the city center?
Yas Island is easily accessible by road and is connected to the city center by bridges. Taxis and public transportation are readily available options.
What is the best time to visit Abu Dhabi?
The ideal time to visit Abu Dhabi is during the months of October to April, when the weather is pleasant and suitable for outdoor activities. After that, Abu Dhabi weather gets more hot and humid, and can reach 45 degrees Celsius.
Is English widely spoken in Abu Dhabi?
Yes, English is widely spoken and understood in Abu Dhabi, at work, or at the restaurant, and is probably the most spoken language, making communication easy for visitors from around the world.
Conclusion

In conclusion, Abu Dhabi's geographical location is at the heart of its charm. This city seamlessly integrates its natural wonders, architectural brilliance, and rich cultural heritage into a vibrant tapestry that captivates the hearts of all who visit.
Whether you're wandering through its desert landscapes, admiring its modern skyscrapers, or immersing yourself in its cultural landmarks, Abu Dhabi is a destination that offers an authentic and unique experience to its visitors, where you can find luxury and culture, and an alternative to Dubai. Check our article 10 Things to Do at 2 Hours drive: Abu Dhabi and Ras Al Khaimah, The Perfect Dubai Alternatives.
If you wonder if it s safe for a solo female traveler to visit Abu Dhabi, check our article Are Abu Dhabi and Dubai safe for solo female travelers?.