What is GITEX Expand North Star Dubai?
In the ever-evolving landscape of technology and innovation, GITEX Dubai has gained the status of the world largets tech event, with more than 170,000 visitors, and 5,000+ companies. Alongside GITEX, its colocated event EXPAND NORTH STAR has stood out as the world largest startup event of its kind. Expand North Star Dubai 2023 gathers startup entrepreneurs, and investors from around the world.
We explore here the event and understand the profound impact it leaves on the technology landscape outside the Western world. Furthermore, we explain how to attend EXPAND North Star Dubai 2023.
Where and When is Expand North Star Dubai 2023?
The world's largest event for startups and investors, Expand North Star has announced its expansion to the iconic Dubai Harbour for its 2023 edition. Taking place from 15th to 18th October 2023, this four-day event is hosted by the Dubai Chamber of Digital Economy and the Dubai World Trade Centre, its organizer.
Expand North Star 2023 aims to unite founders, venture capitalists, tech leaders, and ecosystem enablers from around the globe. This grand event is promising an unprecedented content program, showcasing startups from over 100 countries, welcoming 1000+ investors scouting for their portfolios, and featuring 250+ influential speakers.
The Magnitude of Expand North Star:
1,400+ Global Startup Exhibitors: Witness groundbreaking innovations and ideas presented by over 1,400 startups from across the world.
1,000+ Investors: More than 1,000 venture capitalists will attend the event to discover promising opportunities for investment.
250+ Speakers: Industry leaders, visionaries, and experts will grace the stage to share their insights and experiences.
8 Stages: With eight stages hosting various sessions and discussions, attendees will have a plethora of options to explore.
100+ Exhibiting Countries: Expand North Star 2023 proudly welcomes startups from over 100 countries, fostering a global network of innovation.
What Happens at Expand North Star Dubai?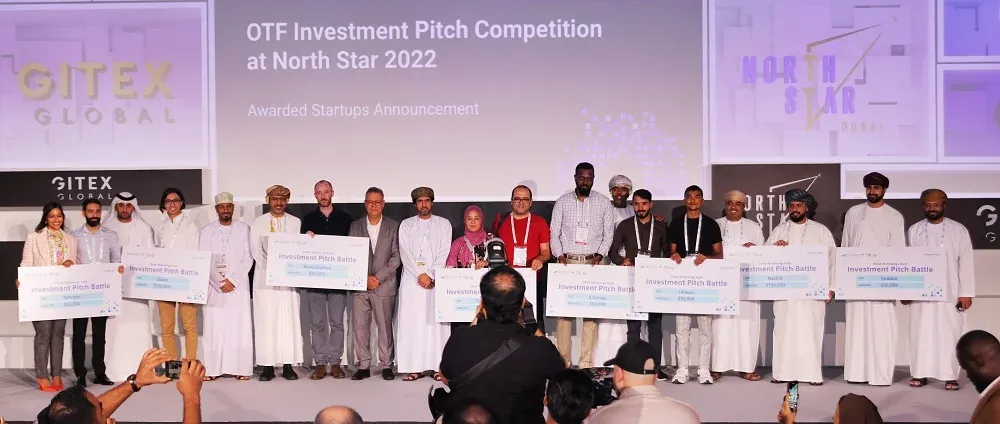 The event puts the spotlight on the best startups and innovations from the region, with a particular focus on the Middle East, Africa and Asia. Additionally, it features several exciting programs and stages:
Fast 100 Series:
This series covers technology in the creative space, including art, fashion, music, and more, showcasing the forefront of creative innovation.
Creative Economy:
In this segment, attendees will delve deep into new technologies and hear from rising startup hubs, exploring the evolving landscape of the creative economy.
Spotlight Stage:
Startups to the rescue! This stage highlights how innovative startups are addressing global challenges through open innovation. It also scouts the best mobility and creative economy startups.
Innovation Cups:
VCs, fund of funds, angel investors, and CVCs share insights on resilient portfolio management and strong investment forecasts for emerging economy startups.
Ventures Track:
The party doesn't stop! Attendees can participate in networking sessions, attend partner events, and relax in the backyard, fostering valuable connections.
North Star By Night:
Even after the sun sets, North Star Dubai keeps the energy alive with vibrant networking and social events, offering opportunities to make lasting connections.
Flashback to North Star 2022:
The previous edition of Expand North Star witnessed remarkable accomplishments:
Over 2,400 pre-matched funding meetings between startups and VC's.
1,200 buyer meetings between startups and corporates & governments.
More than 100 North Star startups raised funds with investors they met at the event.
20 startups won $2 million USD in cash prizes in challenges & pitch competitions.
An impressive 120 startups set up offices in UAE as a result of Expand North Star.
With such incredible achievements, North Star Dubai is fostering a culture of innovation and collaboration on a global scale, from Dubai, United Arab Emirates.
Key Highlights of North Star Dubai 2023

4.1. Global Technological Innovations:
One of the most captivating aspects of North Star Dubai 2023 is its grand display of global technological innovations. Attendees get a firsthand experience of cutting-edge technologies, including artificial intelligence, blockchain, renewable energy solutions, and more. Witnessing these innovations in action inspires attendees and offers valuable insights into the future of technology.
4.2. Networking Opportunities:
The event provides unparalleled networking opportunities for entrepreneurs and professionals in the tech industry. Participants have the chance to connect with potential investors, industry experts, and like-minded peers from around the world. These connections often lead to strategic partnerships and collaborations that propel startups to new heights.
4.3. Startup Showcase and Competitions:
The startup showcase and competitions at North Star Dubai 2023 are a highlight for many aspiring entrepreneurs. Startups get a platform to pitch their ideas and prototypes to a global audience, gaining exposure and recognition. This exposure often opens doors to funding, mentorship, and international expansion opportunities for promising startups. Additionally, competitive events fuel creativity and drive startups to push their limits.
4.4. Expert Talks and Panel Discussions:
The event features an array of expert talks and panel discussions by industry leaders and visionaries. These sessions offer invaluable insights into the latest tech trends and challenges. Attendees can learn from the experiences of successful entrepreneurs and industry veterans, gaining knowledge that can shape their own entrepreneurial journey.
How to Attend Expand North Star?

It is already possible to obtain FREE PASSES to Expand North Star 2023 through this link.
If you rather look to register as a startup, investor or speaker, check this link.
For more informartion on GITEX GLOBAL Dubai 2023, check our dedicated articles on Why Attend Gitex? and our guide about Everything to Know About Gitex Dubai 2023.
FAQs:
Q: When and where does the North Star Dubai event take place?
A: North Star Dubai is held annually at the Dubai Harbour, from 15th to 18th October 2023. You can visit the official website for more information at https://www.expandnorthstar.com/.
Q: Can anyone attend the North Star Dubai 2023 event?
A: Yes, North Star Dubai 2023 is open to entrepreneurs, tech enthusiasts, investors, industry professionals, and the general public interested in technology and innovation.
Q: Are there any age restrictions for attending the event?
A: The event is open to attendees of all ages. However, some sessions or areas may have age restrictions due to the content being presented.
Q: How can startups participate in the showcase and competitions?
A: Startups can apply to participate in the showcase and competitions through the official website. The application process typically involves submitting a detailed proposal or pitch.
Q: What are some success stories from previous North Star Dubai events?
A: Over the years, several startups that showcased their innovations at North Star Dubai have achieved significant success, securing investments, and expanding their businesses globally. North Star expanded beyond the United Arab Emirates with the first edition of the event in Morocco at GITEX Africa in May 2023.