Is Dubai Safe for Solo Female Travellers? A Comprehensive Guide

Dubai, the second largest city in the United Arab Emirates (UAE), offers a unique blend of tradition and modernity, desert landscapes, and striking architecture. As such, Dubai attracts millions of tourists including solo female traveler around the world, and has gain the title of Tripadvisor best tourism destination in the world. Since Covid, the city is as well attracting digital nomads in Dubai most beautiful areas.
As a testament to its appeal and safety, a 2023 survey by travel insurance comparison site InsureMyTrip highlights Dubai as the safest city for solo traveler. In fact, a Forbes report places Dubai as the top-ranking city due to its high scores for safety, walking alone at night, TikTok popularity, the quality of things to do, gender equality, and absence of legal discrimination.
The city's reputation is not solely based on these indicators; it is backed by firsthand accounts from female travellers on solo trip who have experienced its charm, safety, and diversity. The same is often reported as well for solo female travel to Abu Dhabi, the UAE capital, at 90 minutes distance from Dubai.
If you wonder about the status of females in Dubai, our article Everything to Know About Dubai Women gives you indications about their rights, famous women in the city and other tips.
Safety Levels in Dubai
It's not only the sparkling skyscrapers and sun-kissed beaches that make Dubai an appealing destination for solo female travelers. The city also boasts robust security measures and low crime rates, not just in Dubai Marina or Dubai Mall area but across the city, although it's best for a solo female to not go at night in some of the workers areas unless required.
Dubai's strict law enforcement plays a vital role in maintaining the city's status as a safe haven. The Dubai Police, lauded for their efficiency and quick response, ensure the safety of both residents and tourists. Innovative programs like the "Police Eye" let citizens report suspicious activities directly to the police through a smartphone app.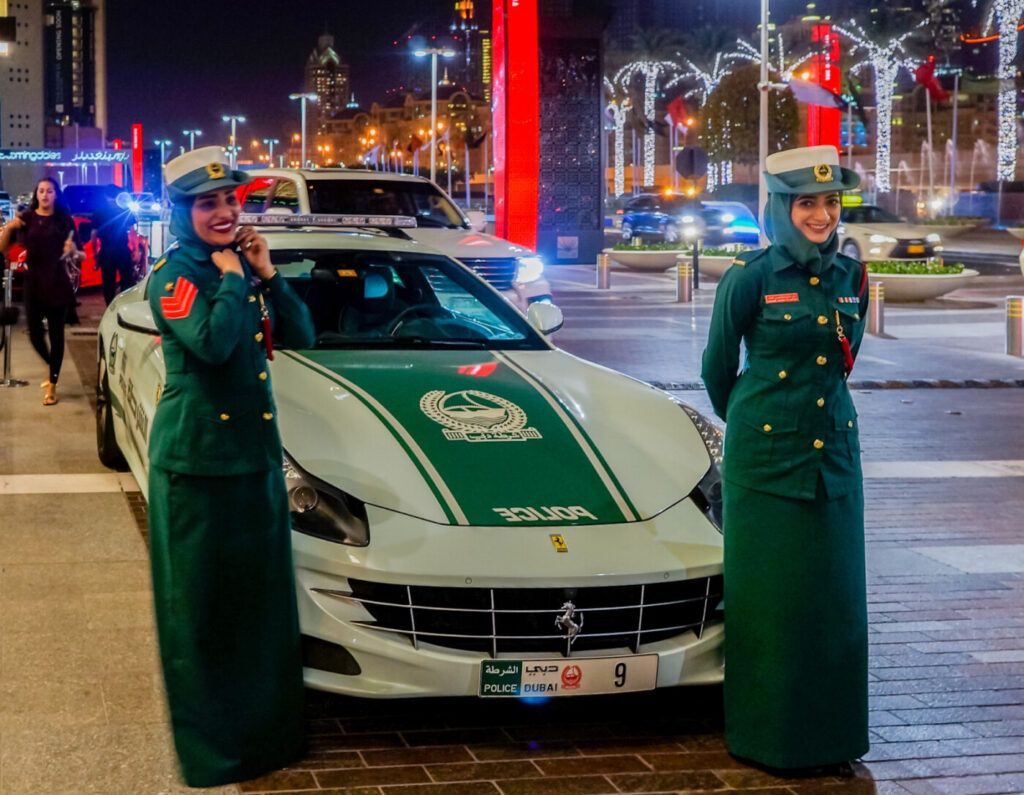 Cultural Norms and Etiquette in Dubai
Dubai, a melting pot of over 200 nationalities, promotes cultural respect and tolerance, contributing to its overall safety. The city celebrates coexistence, making it a welcoming destination for travellers worldwide.
Our article about Etiquette to respect while in Dubai or Abu Dhabi for business gives you details that can be useful to your travel.
Solo female travellers must understand and respect the local culture and traditions, while there is no restrictions as long as you don't offend others. Dress modestly in more traditional areas and religious sites. Areas like Jumeirah Beach or Burj Khalifa are more touristic and have a more relaxed dress code.
Public displays of affection should be kept to a minimum, and consumption of alcohol is regulated and only allowed in designated areas, contributing to te city overall safety.
Dubai Accommodation and Transportation
Dubai offers a wide range of accommodations for solo travel at every budget, from luxurious hotels to budget-friendly hostels. Female solo travellers are advised to stay in areas that are well-lit, close to public transportation, and have gained reputation for safety, such as Downtown Dubai with its Burj Khalifa or the Marina area.
As for transportation, Dubai's public transportation system is safe and reliable. The city also offers women-only sections in public transport, providing a comfortable and secure environment for female solo traveller.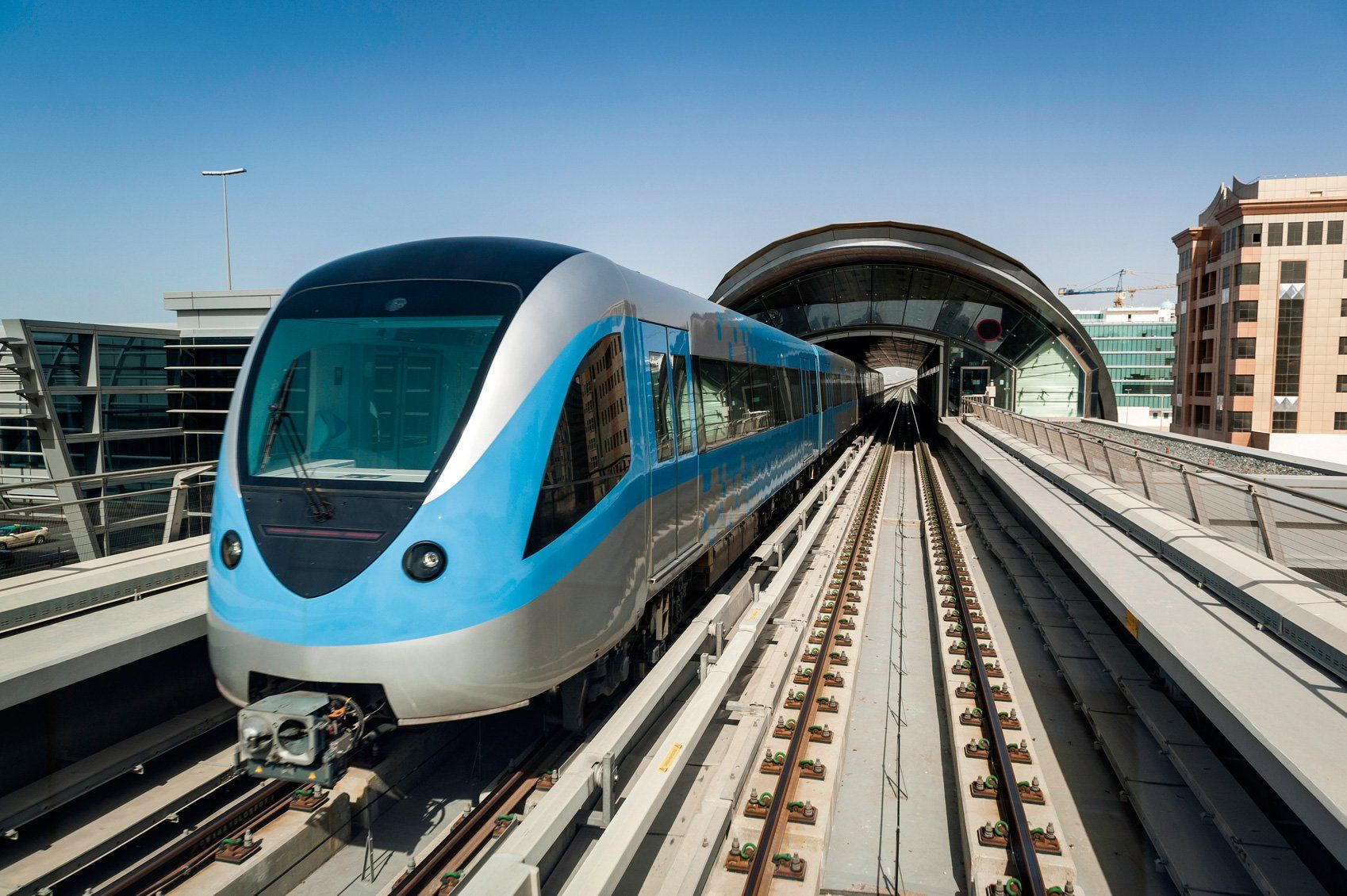 Activities for Solo Female Traveller in Dubai
From adventure activities to shopping and cultural experiences, Dubai offers a variety of safe and enjoyable activities for solo female travellers.
For instance, NomadHer, an app for female globetrotters, interviewed Patricia, a personal trainer from Spain who is currently living in Dubai, and didn't hesitate to leave Spain to take a great opportunity in UAE. She travels and works at the same time, and shared her thoughts on solo female travelling.
Ascend the Burj Khalifa: With its 828-meter height, Burj Khalifa is a testament to human ambition and ingenuity. Journey to 'At The Top,' the viewing deck on the 148th floor, for a stunning panorama of Dubai city and beyond.
Experience Outdoor Public Art: The cityscape of Dubai is a canvas for stunning public art. Walk through the streets of Al Fahidi and Jumeirah Beach Residence to discover beautiful murals and installations by artists from all around the world.
Embark on an Abra Journey to Old Dubai: Board a traditional Abra boat for a picturesque journey along Dubai Creek. Disembark at the Gold and Spice Souks in Deira, known for their exotic scents and shimmering wares.
Relax at the Dubai Miracle Garden: The world's largest natural flower garden, with over 150 million flowers arranged in vivid displays, offers a tranquil escape from the bustling city.
Experience a Desert Safari: Venture beyond the city into the expansive Arabian desert. Experience dune bashing, camel riding, and traditional Bedouin hospitality under a starlit sky.
Visit the Jumeirah Mosque: Renowned for its beautiful architecture, the Jumeirah Mosque offers visitors a rare opportunity to learn about Emirati culture and Islam in an open and relaxed atmosphere.
Take a Sunset Dhow Dinner Cruise on Dubai Creek: Board a traditional wooden dhow and indulge in an Arabian feast as you sail along the historic Dubai Creek at sunset, soaking in the sights of the illuminated city.
Explore the Dubai Mall: As the world's largest shopping mall, Dubai Mall has a plethora of luxury boutiques, high street stores, and unique local brands. Don't miss the aquarium and underwater zoo, and grab a cup of coffee overlooking the iconic Dubai Fountain.
Indulge in a Spa Day: Dubai's luxury hotels are renowned for their world-class spas. Whether you want a traditional hammam experience or a rejuvenating facial, there's no better place to pamper yourself after a day of work.
Visit the Alserkal Avenue Art District: A former industrial compound in Al Quoz has been transformed into Dubai's premier contemporary art district. Explore the many galleries showcasing local and international art and grab a bite at one of the trendy eateries.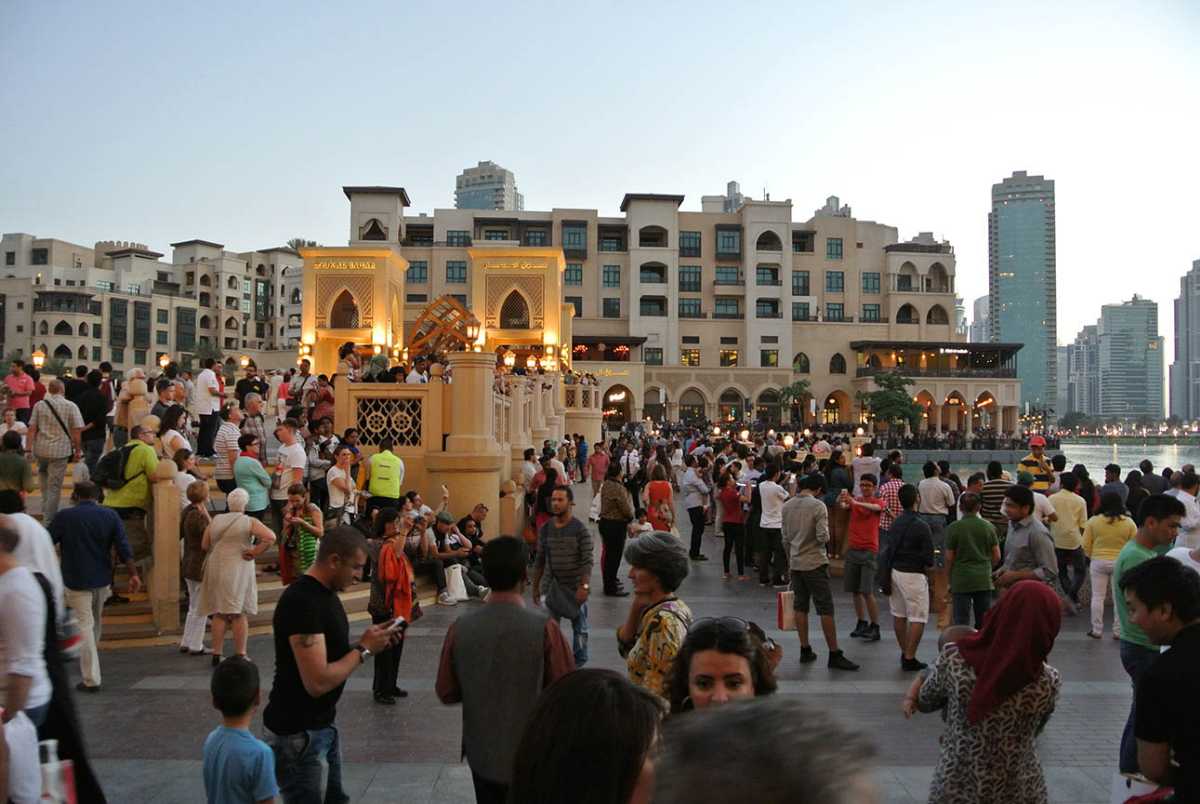 Dubai's Comparison with Other Global Cities
When evaluating Dubai overall safety, a comparison to other major global cities provides a clearer picture.
New York City: The city that never sleeps is renowned for its dynamic atmosphere and bustling streets. Significant strides in reducing crime over the past decades have made New York safer, yet Dubai's crime rate is considerably lower, providing travellers with a heightened sense of safety.
Tokyo: Japan's capital is frequently lauded as one of the world's safest cities, credited to its low crime rate and efficient police force. Yet, Dubai's continued reduction in crime and consistent investments in security have edged it ahead of Tokyo regarding overall safety.
London: A hotbed for tourism, London has a higher crime rate than Dubai, especially in certain city areas. While London remains relatively safe for tourists, Dubai's strict law enforcement and lower crime rates make it an even safer choice.
Women-Specific Facilities and Services in Dubai
Dubai offers numerous women-specific facilities and services, further promoting its commitment to the safety and comfort of female travelers. Dubai Metro and Dubai Tram have, like some cities in the Middle East or Japan or South Korea, women-only compartments, and certain public beaches designate sections exclusively for women, thereby fostering a secure environment.
Dubai Police even have a dedicated department for handling cases involving women. Their approach ensures that concerns raised by women are promptly addressed, thereby enhancing their sense of safety and comfort.
For a guide about Getting Around Dubai, read our related article.
Emergency Services in Dubai
In any city, access to prompt and efficient emergency services is vital. Dubai excels in this aspect with a streamlined emergency response system. Dialling 999 connects you to the police, while 998 and 997 get you to the ambulance and fire services, respectively. The well-trained staff and quick response times of these services contribute to the city's reputation for safety.
Conclusion
In conclusion, Dubai's comprehensive safety measures, including its robust law enforcement, cultural tolerance, women-specific facilities, safe public transport and reliable emergency services, make it an exceptionally safe city for each solo female traveller. The UAE capital, Abu Dhabi, is often ranked as the safest city in the world. Its ranking in global surveys and the accounts of women who've travelled solo to Dubai or Abu Dhabi underscore this fact, making the United Arab Emirates a prime destination for women seeking a safe place for an adventurous, and enjoyable travel experience.